Tea
Samurai means "to serve."
Tamurai means "to serve through tea."
AT TAMURAI TEA OUR GOAL IS TO HONOR THE SPIRIT OF HEALTH AND WELL-BEING.
Why Do People Use Botanicals?
Americans use botanicals in much the same way they use prescription pharmaceuticals recommended by their physician, or over-the-counter (OTC) medicines available at the local pharmacy-to treat symptoms, prevent disease, and maintain health and wellness.
Who is using botanical medicines?
You are not alone in your interests in botanical medicines. In the U.S., botanical medicines are one of the most popular and rapidly growing of all complementary therapies. In 2010, the global retail sale of botanical dietary supplements amounted to more than $25 billion, according toNutraceuticals World. With this buying power, the more the American public knows about botanicals, the more it can influence good government regulations and reward manufacturers who produce quality products.
Treatment
Although botanical medicines are classified as dietary supplements, not drugs, it is common knowledge that botanical medicines are medicines. As such, Americans use them much like conventional medicines to treat diseases and disease symptoms. For example, women use black cohosh and phytoestrogenic herbs, such as red clover, to treat symptoms of menopause.
There is a considerable amount of scientific and clinical evidence for the use of botanicals. See Is There Good Scientific Evidence? However, manufacturers of dietary supplements cannot, by law, claim that they treat or prevent disease and so cannot provide detailed information on how to use their supplements.
As a result, consumers who wish to use these products in an informed manner must look for outside sources of information, such as the internet. It is important to assess the credibility and accuracy of these sources before making treatment decisions. Who is providing the information? What evidence do they cite? Who is paying for the site? When was the content last updated? These are just a few questions to ask to determine if the site is reliable. For more details see How Do I Get the E-Facts?
Health maintenance and disease prevention
Botanicals are also commonly used to maintain health and prevent disease. There is good research to support these uses: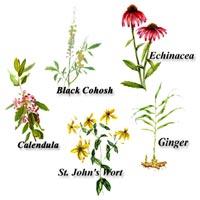 Immune-active botanicals, such as echinacea, strengthen and tone immune functions.
Antioxidant botanicals, such as green tea, prevent cancer, slow aging, and maintain cardiovascular functions.
Botanicals, such as St. John's wort, alleviate common psychological symptoms, such as insomnia, anxiety, or mild depression. It has also been used in combination with black cohosh to relieve mood symptoms associated with menopause.
Valerian can also help with insomnia, and kava can help reduce anxiety.
Botanicals, such as ginger, treat or prevent a variety of gastrointestinal problems, from nausea to constipation.
Botanicals, such as black cohosh and saw palmetto, treat reproductive system problems, such as menopause and prevention of prostate enlargement.
Please follow and like us:
THE BEST TEA FOR WEIGHT LOSS THAT IS PROVEN TO WORK
Are you struggling to lose weight? Is your diet and exercise plan keep on failing you due to your endless craving for food?
Today, we are providing you a method that has been widely known for its health benefits and more importantly, it's weight reducing ability.
Yes, that is none other than tea!
There are over 1,500 types of tea and finding out what teas are good for weight loss purpose is crucial.
Therefore, this article is dedicated in giving out a list of the best tea for weight loss, with the final one being our most recommended tea due to the significant ingredients it has in cutting down fat, to help you achieve your weight loss goal in 2019.
WHY DO TEAS HAVE THE POWER TO CUT DOWN WEIGHT?
Tea is the second most consumed drink in the world after water and there is a good reason for this.
It can be served hot or cold, coming in many different flavors. More importantly, it wakes you up, help you relax and plays a huge role in providing health benefits.
Most tea contain catechins, a disease-fighting flavonoid (type of phytonutrient, or plant) which boost your metabolism, breaking down your body fat more quickly and in turn speed up the process of losing weight.
Also, tea has polyphenols and is ten times more than that of some fruits and vegetables.
Since we are on fat burning tea topic, it is pretty obvious that it would contain caffeine. It's just the question of how much?
To anyone who worries about the fact that fat burning tea contain caffeine, here's an interesting fact – "you are less likely to get a "caffeine crash" when you drink tea as oppose to coffee or soda. (1)
The reason being, there is a high level of antioxidants in tea that slow down the absorption of caffeine."
Also, the amount of caffeine in fat burning tea when comparing with coffee, is just about enough to activate your metabolism, increasing the body's ability to burn fat. (2)
So, before we get into the list, let's talk a bit about weight loss itself.
Even though, drinking tea for losing weight is simpler and require less work than having to go on a diet or exercising, it is by no mean a get slim quick method. 
Having dieter tea as a weight loss method will take time and effort but how fast you get to the result will depend on how committed you are to the process.
We believe you can! That's why we are sharing with you our best tea list to help you.
With that being said, let's jump right in!
WHICH ARE GOING TO BE THE BEST TEA FOR WEIGHT LOSS?
OOLONG TEA
---
Starting off in our list is Oolong tea. You definitely have heard of this tea before, but let's give you a deeper understanding about this tea's benefit.
Oolong has been known for as much as 400 years, dates back from the time it was widely used throughout China.
The tea leaves are fermented until they start to change color and people will then use the semi-green fermented leave as tea. (3)
During the fermented process, the tea is provided with numerous polyphenolic compounds that gives it valuable health benefits.
So, how does Oolong tea help slim down the body? The answer is found in the composition found in the tea.
There are two main ways to reducing body weight, first is to increase the energy expenditure and second is the absorption of nutrients.
Oolong tea in this case help both ways.
The tea composition is full of antioxidant which can boost the metabolism rate in the body up by ten percent.
This will not only burn calories much faster but also build up your immune system. 
Furthermore, the significant amount of caffeine found in Oolong tea also work very effectively in reducing body fat.
A case study in "The Journal of Nutrition" shown that 102 Chinese participants drank 4 cups of Oolong tea a day brewing from 2g tea bags lost over a kilogram after 6 weeks period.
This goes to show that consuming Oolong tea regularly will help with losing weight.
Along with losing weight, Oolong tea also provide other health benefits: 
Heart Disease
Diabetes
Dental Health
A study from Southern of China looked at the relationship between the consumption of Oolong tea and the level of cholesterol. They found out that people who had at least 10 ounces of Oolong tea each week had lower overall cholesterol level which in turn lowering the risk of having heart disease.
GREEN TEA
---
Green tea has been long known for its used in traditional medicine in China and India for centuries and also very popular due to various health benefits it provides.
However, green tea had only grown popularity in the Western countries these past few years.
The tea leaves of green tea are harvested from the plant called "Camellia sinensis" which will then be quickly heated by pan firing or steaming.
Afterward, it is dried up in order to halt the oxidation process or the leaves would turn brown and lose their fresh flavor.
The tea is considered to be one of the less processed types which contains the most antioxidants and polyphenols.
Green tea also contains caffeine and antioxidant known as catechin. Having two of these compounds will speed up metabolism, helping the body in the process of losing weight.
Two researches from the International Journal of Obesity and the Cochrane librarylooked at the impact of green tea on weight loss. They found out that green tea does have a positive effect on the process of cutting down fat.
However, the result was not significant.
Comparing to other weight lost teas in our list, green tea would have to take a larger amount of effort to be successful.
Therefore, this tea is great to take alongside with regular exercise and diet as not only does it adds up fat burning speed but also provide other health benefits for the body.
Cancer 
Heart disease
Memory
Researcher from the National Cancer Institute have shown that polyphenols in teas have an impact on tumor growth. In countries where there is high consumption of green tea, the cancer rate tends to be much lower. Studies also show the positive impacts of green tea on cancer types such as breast, bladder, ovarian, lung, skin, stomach.
WHITE TEA
---
White tea was first discovered in Fujian, China over three centuries ago and was mostly consumed in China.
It was not until the year 2000 that they had studies on white tea, showing low caffeine level and high antioxidants that led white tea's popularity worldwide.
The process of producing white tea is not considered easy though it's minimal.
It is made from buds and sometimes leaves. They will leave it to wither under the low-level warmth to decrease the water content.
Afterward, it is dried with sunlight or hot air that would also slightly oxidize during the process.
This require the harvester and producer to have great skill to produce delicious white tea. They will need to adapt to different weather conditions in order to harvest and to produce the tea at optimal time (11).
Studies have shown white tea can effectively inhibits the formation of new fat cells and it also reduces the formation of these cells which will result in gradual weight loss (12).
Not only that it also mobilizes fats from mature fat cells and ultimately eliminating excess fat from the body.
However, according to Dr Rupali, she says " The white tea is rich in antioxidants and this would really help in the process of losing weight, but it should also be combined with a healthy diet and exercise regime"
Health benefits of White tea:
Heart disease
Cancer
Insulin Resist
Polyphenols found in white tea help relax blood vessels and boost immunity. It also prevents "bad" LDL cholesterol from becoming oxidized which lower the risk factor of heart disease (13). Studies showed that people who have around 3 cups of white tea a day had a 21% lower risk of heart disease.
BLACK TEA
---
Let's start with an interesting fact about black tea – black tea is considered to be the most popular tea accounting for over three quarter of the world's tea consumption.
Dates back to the mid-17th century when it was discovered in China. Like the other 3 above in our list, black tea is also made from the leaves of "Camellia sinensis" (plant but have a different fermentation process) and is then blended with other plant for suitable flavors that are used in the West nowadays – Earl Grey, English Breakfast.
The most popular processing black tea method is called "The Orthodox Method" which involves having the tea leaves laid out and either under the heat for around 18 hours. This will reduce the water content of the leaves.
Afterward, it will be pressed, roll, and left out in open for two rounds of oxidization to raise the level of polyphenols within the tea.
Like green tea, black tea also contains decent amount of caffeine, but the unique level of flavonoids gives black tea a slight edge when it comes to weight loss.
Shown in a study of the European Journal of Nutrition, it is said that black tea together with the assistance of a specific mechanism through the gut microbiome help cutting down weight. The mechanism somehow differs from the one in green tea particles.
Interestingly, black tea only has approximately 2 calories within each cup and there is also 0% cholesterol and saturated fat. If there are more than 2 calories found in a cup of black tea, it would be due to the product containing additional milk, sugar or honey.
Therefore, for maximum weight loss benefit, it is to be advised that you take the tea as pure as possible.
Gut health
Blood pressure
Blood sugar 
The black tea help maintain a healthy gut by increasing the growth of good bacteria and decreasing the growth of bad bacteria (16). It also kills off harmful substances and boost immunity making your stomach much healthy.
FINALLY! OUR RECOMMENDED TEA FOR WEIGHT LOSS
RED TEA
---
For a long time, most people would only turn to black and green tea for the hope of losing weight. Even though they do work, it's very minimal.
Like we have mentioned above, green tea, though, does have substances in helping weight loss, it's very insignificant and take tremendous effort.
Black tea is almost similar to green tea in a way that it's actually "burnt green tea".
Both contain some amount of caffeine which, to many people's fear, large intake of caffeine can cause heart palpitations, nausea, vomiting and "jittery" feelings.
Even if you decaffeinate green or black tea, the decaffeination process destroys the natural ingredients which makes more sense to drink a tea that is naturally contains no caffeine, right?
Another problem is that black tea is often taken with milk, sugar or honey, leads to a decrease in the absorption rate of antioxidants and polyphenols which in turn cause you to unconsciously gain weight!
Therefore, we would like to share with you a tea that eliminates all of the problems the other teas have when it comes to weight loss.
The red tea was discovered by Dr. Liz Swann Miller not so long ago. She is a naturopath and best-selling Amazon author who has over 15 years of experiences in weight loss, health, well-being that helped over thousands of women and men.
She discovered the tea while she was on her way to search for it in the jungles of Africa, where the tea recipe was kept by the Kenyan tribesman.
So, what makes the red tea better than the other teas that we have to recommend it to you?
It's because, not only when you drink the red tea, it will help you erase any craving for food, but it is also caffeine free. That's right, the red tea is caffeine free and will leave you with hunger-free unlike the other teas!
Therefore, this is perfectly safe for anyone who is trying to lose weight.
Okay, now you may be asking how will drinking a tea stop you from being hungry?
Dr. Liz Swann studied and discovered within the tea, there are 5 unique ingredients that are not found in green or black tea. These ingredients, which can be found at local supermarket, are what works together to make the red tea so great at metabolism-boosting and fat burning.
​THE 5 SPECIAL INGREDIENTS OF RED TEA
---
We can't share with you what exactly those 5 unique ingredients are right here, but we can tell you the science behind it:
First ingredient: The fat-cell shrinker. It contains a unique bioflavonoid that reduces stress hormones, contributing to hunger and fat storage, while simultaneously increases glucose uptake to aid in the balance of blood sugar levels and insulin resistance. Therefore, it will produce new fat cell making you feel energized while getting thinner.

Second ingredient: Help decreases calorie intake with a mechanism that works by blocking dietary fat digestion. Then acting as an antioxidant and reducing inflammation. Plus, it increases feelings of fullness and enhances glucose and fat metabolism… So, you burn more fat while absorbing fewer calories! This is important because it means you can still eat plenty of food, and your body will simply take fewer calories, making it easy to lose weight.

Third ingredient: Increases blood flow and stimulates the secretion of adrenaline to boost your metabolic fat-burning rate, while also improving insulin sensitivity and lowering cholesterol. It is a great detoxifier, and it even helps your digestive system clear food faster, keeping your whole body cleaner.


Fourth ingredient: is a diuretic, so it promotes urine flow but without altering the excretion of sodium and potassium, so it won't cause dehydration. This is critical to detoxing your body the right way!

Fifth ingredient: is unique ingredient in this red tea helps the body to metabolize carbohydrates more effectively. It has been shown to lower insulin resistance while stimulating metabolism, helping prevent increased fat storage, and ensuring that lower blood sugar levels are maintained. This special spice improves the speed of digestion and gives relief from gas and bloating too. It makes this red tea taste delicious… And it adds a powerful fat-burning boost!
The bottom line is, drinking the red tea not only "halts hunger" but can also reverse the harm caused by the built-up toxins in your fat cells, thanks to its powerful antioxidants. 
That's why we believe the red tea is the best tea for fat loss and could be the breakthrough many people struggling to lose fat have been waiting for. 
The red tea focuses specifically on losing weight, speeding up the process so much faster than any other tea, while also provides other health benefits.
To find out what the red tea ingredients are and how to combine them to create delicious, fat-burning red tea, click here now.
Dr. Liz also dedicated her time in coming up with a special program called "The Red Tea Detox" to help anyone who is struggling to lose weight.
The Red Tea Detox program is the exact step by step process of how, she, herself lost 14 pounds in the matter of two weeks! And had also help thousands of people.
The Red Tea Detox is changing the way people lose weight, and it could be just what you need to reach your weight loss goals in 2019.
Visit https://sironaden.com/Red-​​Tea-Detox-Homepage to learn more and discover if the program is right for you.
Once again, we truly believe you can do it! That's why we wanted to share with you the most powerful way we know about losing weight, making 2019 the year you successfully reach your weight loss goal!
Please follow and like us:
---
Articles from 
Chinese Medicine
 are provided here courtesy of 
BioMed Central
Please follow and like us: