Tea
Samurai means "to serve."
Tamurai means "to serve through tea."
AT TAMURAI TEA OUR GOAL IS TO HONOR THE SPIRIT OF HEALTH AND WELL-BEING.
This is my simple religion. There is no need for temples; no need for complicated philosophy. Our own brain, our own heart is our temple; the philosophy is kindness.   ~ Dalai Lama
Please follow and like us:
Humble Grumble Tea
Ingredients:  Organic Ginger – Organic Hibiscus Flowers – Organic Licorice Root – Organic Cinnamon – Organic Currants – Organic Lemongrass Organic Turmeric – Essential Orange – Essential Lemon – Natural Plum Flavor
8 Incredible Benefits Of Licorice Root Tea
Licorice root tea has a wide range of health benefits such as detoxifying the body, soothing spasms, easing menstrual cramps, raising blood pressure, eliminating respiratory infections, reducing inflammation, treating stomach disorders, protecting the skin and strengthening the hair. There are also a few potential side effects of drinking this tea including drug interactions, high blood pressure, vitamin deficiencies, increased water retention, stomach distress, erectile dysfunction and a higher risk of cancer. These side effects are mainly experienced when an excessive amount of licorice root tea is consumed, although allergic sensitivities can also be the cause of negative reactions.
What is Licorice Root Tea?
Licorice root tea, as the name implies, is made by steeping the roots of the licorice plant, scientifically known as Glycyrrhiza glabra. Licorice root tea has been a popular tool in natural medicine for thousands of years, particularly in regions where this plant is native including Europe, Asia, and India. [1] The many health benefits of licorice root tea are due to the presence of unique organic compounds, including glycosides, flavonoids, anethole, coumarins, sterols and a number of other antioxidants, as well as certain minerals and vitamins. Due to the powerful and potent nature of the root and the risk of toxicity, no more than 3 cups of this tea should be consumed each day, which should be more than enough to enjoy the following health benefits.
Benefits of Licorice Root Tea
Licorice root tea is recommended for people suffering from low blood pressure, arthritis, gout, indigestion, colds, coughs, respiratory infections, painful menstruation, seizures, high toxicity levels, dry skin, premature aging, hair loss, dandruff, and various other conditions.
Skin Care
In terms of skin health, licorice root tea can help to keep your skin moisturized when used as a topical application (cold tea), but can also improve the antioxidant levels in your body, helping to minimize signs of aging. Furthermore, licorice tea can help soothe inflammatory conditions like psoriasis or eczema, and even act as a natural sunscreen, helping to block UV rays that damage the skin. [2]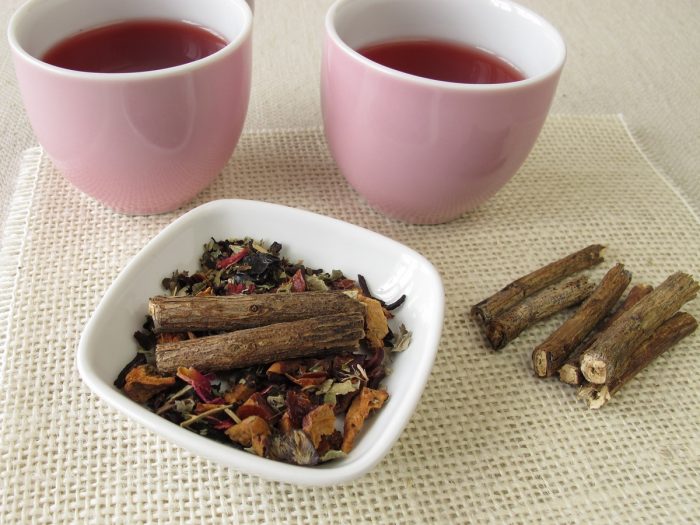 Low Blood Pressure
If you suffer from hypotension, also known as low blood pressure, the stimulating nature of licorice root tea can elevate your blood pressure to normal levels, providing a boost to your energy levels and preventing dizziness and fatigue. [3] However, if you suffer from high blood pressure, this tea can be a dangerous choice for your overall health.
Anti-spasmodic Effects
By soothing the symptoms of seizure disorders and spasms of smooth muscle tissue in the body, licorice root tea can help to relieve heart palpitations, smooth digestive properties, and ensure proper muscle function throughout the body. [4]
Menstrual Cramps
Licorice root tea has been traditionally used to treat the symptoms of dysmenorrhea, also known as menstrual cramps, and also improve other symptoms of PMS, such as mood swings, and hormonal fluctuations. [5] However, when consumed in excess, this tea can have the opposite effects, so only drink this tea in moderation!
Hair Care
Known for its moisturizing qualities, this versatile tea can prevent dryness of the scalp and prevent dandruff, while also delivering rich antioxidants and minerals to the hair, strengthening the follicles and improving the appearance of your hair. [6]This tea has also been praised for its ability to stop hair loss, both when consumed as a tea and when topically applied.
Immune System
Upper respiratory infections can be persistent and difficult to get over, but licorice root tea can quickly cut through the phlegm and mucus, soothing inflammation in the throat, and giving the immune system a boost to eliminate the underlying bacteria or pathogen. The antioxidants found in this tea are also integral to the body's defenses against illness. [7]
Diuretic Effect
By stimulating urination, licorice root tea can help detoxify the body. [8] This has impressive effects on the liver. Urination eliminates excess salts, fats, toxins, and water from the body, relieving strain on the kidneys and bladder. However, since this tea does have diuretic and laxative effects, drinking too much can cause dehydration and other negative side effects.
Anxiety and Depression
Commonly paired with St. John's Wort, this herbal tea is often recommended for people suffering from anxiety and depression. The soothing flavor and stimulating activity of this tea can improve mood and rebalance stress hormone levels in the body. [9]
How to Make Licorice Root Tea
You can make licorice root tea at home with dried licorice root, hot water, and any natural sweetener if desired. However, it is important to speak with your doctor before using this tea, as it can have a number of side effects and interactions with various medications or medical conditions. Dried licorice root can be purchased from any natural food store and is widely available around the world.
Note: No more than 3 cups of licorice root tea should be consumed per day, in order to prevent unwanted side effects.
Side Effects of Licorice Root Tea
There are quite a few possible side effects when drinking licorice root tea in excess. Some types of licorice will contain a compound called glycyrrhizin, which can cause everything from headaches and fatigue to high blood pressure and heart attacks. These severe symptoms usually occur when a large amount of glycyrrhizin is consumed. [10] Additionally, there are other risks that can affect certain groups of people depending on their medical history and present health conditions.
Please follow and like us:
Humble Grumble Tea
Ingredients:  Organic Ginger – Organic Hibiscus Flowers – Organic Licorice Root – Organic Cinnamon – Organic Currants – Organic Lemongrass Organic Turmeric – Essential Orange – Essential Lemon – Natural Plum Flavor
11 Surprising Benefits Of Hibiscus Tea
The health benefits of hibiscus tea include its ability to treat high blood pressure and high cholesterol, disturbed digestive and immune system, inflammatory problems and liver diseases, as well as cancer. It can also speed up the metabolism and help in healthy, gradual weight loss. It is rich in vitamin C, minerals, and antioxidants and helps in the treatment of hypertension and anxiety.
What is Hibiscus Tea?
Hibiscus tea, also known as Agua de Jamaica, is prepared by boiling parts of the hibiscus plant, known by its scientific name Hibiscus sabdariffa, particularly the flower. It is a very popular beveragethroughout the world and is often used as a medicinal tea. Hibiscus flowers have various names and are known as "Roselle" in some places. [1]
Hibiscus tea is ruby red in color and has a sour taste. Therefore, it is also known as sour tea and has a flavor similar to cranberry. It is widely available in the market throughout the tea-drinking world and can be consumed hot or cold depending on your preference. This tea is low in calories and is caffeine-free.
For the latest videos, please subscribe to our channel
Health Benefits of Hibiscus Tea
The various benefits of hibiscus flower tea which would help in keeping the human body healthy and fit are given below. Find them out and get healthier!
Manages Blood Pressure
A report from the AHA (American Heart Association), published in November 2008, states that consuming this tea lowers the blood pressure in pre-hypertensive and mildly hypertensive adults. [2] It also states that 1/3 of adults in the United States suffer from high blood pressure, which is also called hypertension. A study conducted by Odigie IP suggests that it has antihypertensive and cardioprotective properties, which can be beneficial for people suffering from hypertension and those at high risks of cardiovascular diseases. [3]
Because of its anti-inflammatory properties, hibiscus tea can reduce blood pressure by up to 10 points, according to a research done at Tufts University in Boston. For this drastic improvement to occur, you need to regularly consume three cups of this tea every day for a few weeks. Also, it has diuretic properties that increase urination and simultaneously lower blood pressure.
Lowers Cholesterol
It helps to lower the levels of (bad) LDL cholesterol from the body, thereby helping to protect against heart diseases and protecting blood vessels from damage. The hypolipidemic and hypoglycemic properties of hibiscus tea can be beneficial for those who suffer from blood sugar disorders like diabetes. A research study conducted on patients with type II diabetes suggests that consumption of hibiscus sour tea lowers cholesterol, triglycerides, and low-density lipoprotein cholesterol, which helps to manage this unpredictable disease. [4]
Protects Liver
Research studies have also suggested that the antioxidant properties of hibiscus tea also help in treating liver diseases. [5]Antioxidants help protect your body from diseases because they neutralize the free radicals present in body tissues and cells. Therefore, we can confidently say that drinking caffeine-free hibiscus tea could increase your lifespan by maintaining good overall health.
Anti-cancer Properties
Hibiscus tea contains hibiscus protocatechuic acid which has anti-tumor and antioxidant properties. A study conducted by the Department and Institute of Biochemistry at the Chung Shan Medical and Dental College, in Taichung, Taiwan suggests that hibiscus slows down the growth of cancerous cells by inducing apoptosis, commonly known as programmed cell death. [6]
Anti-inflammatory & Antibacterial Agent
Hibiscus loose leaf tea is rich in ascorbic acid, also known as vitamin C. [7] It is an essential nutrient required by your body to boost and stimulate the activity of the immune system. Hibiscus tea is also known for its anti-inflammatory and antibacterial properties. [8] Therefore, it protects you from catching a cold and flu. It is also used to treat discomfort caused by fever, due to its cooling effect.
Relieves Menstrual Pain
The health benefits of hibiscus tea include relief from cramps and menstrual pain. [8] [9] It helps in restoring hormonal balance as well, which can reduce the symptoms of menstruation like mood swings, depression, and overeating.
Acts as Antidepressant Agent
Hibiscus tea contains vitamins and minerals like flavonoids which have antidepressant properties. [10] Consumption of hibiscus tea can help calm down the nervous system, and it may reduce anxiety and depression by creating a relaxed sensation in the mind and body.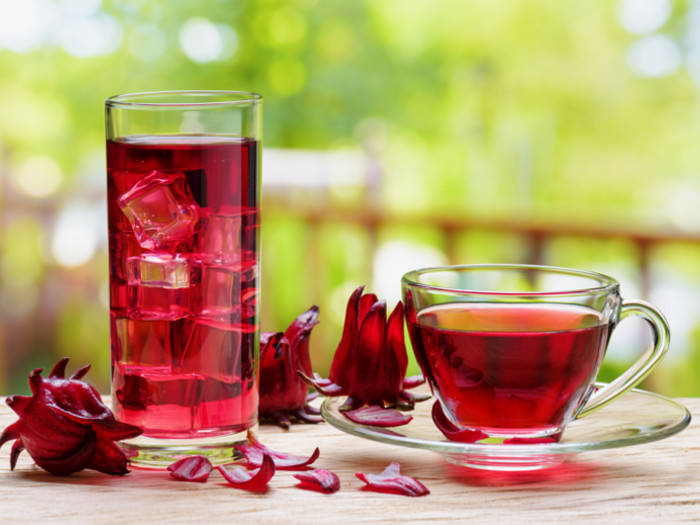 Improves Digestion
Many people drink hibiscus tea to improve digestion as it regularizes both urination and bowel movements. Since it has diuretic properties, it is also used to treat constipation, which helps you lose weight, improve the health of your gastrointestinal system, and avoid colorectal cancer.
Satiates Thirst
Hibiscus tea is also used as a sports drink in order to satiate thirst. For this purpose, hibiscus iced tea is typically consumed. Many people include it in their diet since this variety of tea has the ability to cool down the body very fast.
Weight Loss
Hibiscus herbal tea is beneficial for weight loss. [11] You are likely to gain weight if you consume food that is rich in carbohydrates. However, studies have suggested that hibiscus extract lowers the absorption of starch and glucose and may help in weight loss. Hibiscus inhibits the production of amylase, which helps in the absorption of carbohydrates and starch, so drinking hibiscus tea prevents the absorption from occurring. Therefore, hibiscus tea is found in many weight loss products.
Summer & Winter Drink
You can drink hibiscus tea either as a hot tea or an iced tea. If you want to keep yourself warm in the winter, brew it and drink it straight away. It takes only a few minutes to make. In case you do not want to drink it hot, perhaps in the summer, you have the option to drink hibiscus iced tea by steeping organic hibiscus flowers in water. It takes about 20 minutes for preparation, and then you can cool yourself off in a healthy, refreshing way.
Tastes Great
Organic hibiscus tisane herbal tea has a taste that is very similar to cranberry juice. It can definitely be described as tart, so you can add sugar or honey to increase the sweetness. Also, you can try adding spices like cinnamon, cloves, nutmeg, and gingerdepending on your taste. Hibiscus ginger tea is a popular flavor as there is a balance of tartness of the flower and spiciness of the ginger.
Side Effects of Hibiscus Tea
Although hibiscus tea is a health enhancer and a natural weight loss booster, there are possible side effects you should be aware of.
Blood Pressure: The health benefits of hibiscus tea include lowering blood pressure (anti-hypertensive property). [12] Therefore, it is not recommended for people who already have low blood pressure, a condition called hypotension. [13] It may cause faintness, dizziness, and can even damage the heart or brain if consumed by anyone with low blood pressure.
Pregnancy and Fertility: Hibiscus tea is not recommended for pregnant women, particularly due to its emmenagogic effectswhich may stimulate menstruation or blood flow in the uterus or pelvic region. [14] For those undergoing hormonal treatments or taking birth control pills, it is recommended to consult your health specialist regarding consumption of this variety of tea.
Hallucinatory Effect: Some people may feel intoxicated or experience hallucinations after drinking hibiscus tea. Therefore, be cautious until you know how your body reacts to the tea. Don't drive a car or try anything particularly dangerous until you know what its effects are on your system.
Please follow and like us: