Turmeric Tea
By Dr. Andrew Weil, MD
Turmeric Tea Benefits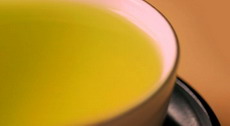 A spicy dish of Indian biryani and a hot dog purchased at the ball game may seem to have little in common, but both feature a liberal quantity of turmeric (Curcuma longa). In the biryani, the spice is an essential part of the curry mixture that gives the dish its distinctive zing. In the dog, turmeric is what makes the slathering of American mustard bright yellow.
The good news about this cross-cultural spice is that elderly villagers in India, who eat turmeric in their daily curries, have the world's lowest rate of Alzheimer's disease. That does not appear to be a coincidence. In a study at the University of California at Los Angeles, scientists fed curcumin, an active compound in turmeric tea, to rats prone to accumulate beta-amyloid plaque in their brains - the abnormality associated with Alzheimer's disease in humans. Curcumin blocked the plaque's accumulation. It also appeared to reduce inflammation related to Alzheimer's disease in neural tissue. The rats fed curcumin also performed better on memory tests than rats on normal diets.
Other studies have suggested turmeric and turmeric tea have broad anti-inflammatory and anti-cancer benefits, as well. But few Americans eat enough curry to achieve these protective effects. Although Dr. Weil does not recommend daily mustard-laden hot dogs as the ideal turmeric delivery device, he found a potential solution during one of his many trips to Okinawa, the island nation with the world's longest average life span, 81.2 years.
Okinawans drink copious quantities of turmeric tea. Some brew it fresh, but others simply buy cans or powdered instant versions of unsweetened tea from their local stores.