Meditation
"The true value of a human being is determined by the measure and the sense in which they have obtained liberation from the self.
Our task must be to free ourselves; by widening our circle of compassion to embrace all living creatures and the whole of nature in its beauty."
 Albert Einstein, 1954
Neurotheology: This Is Your Brain On Religion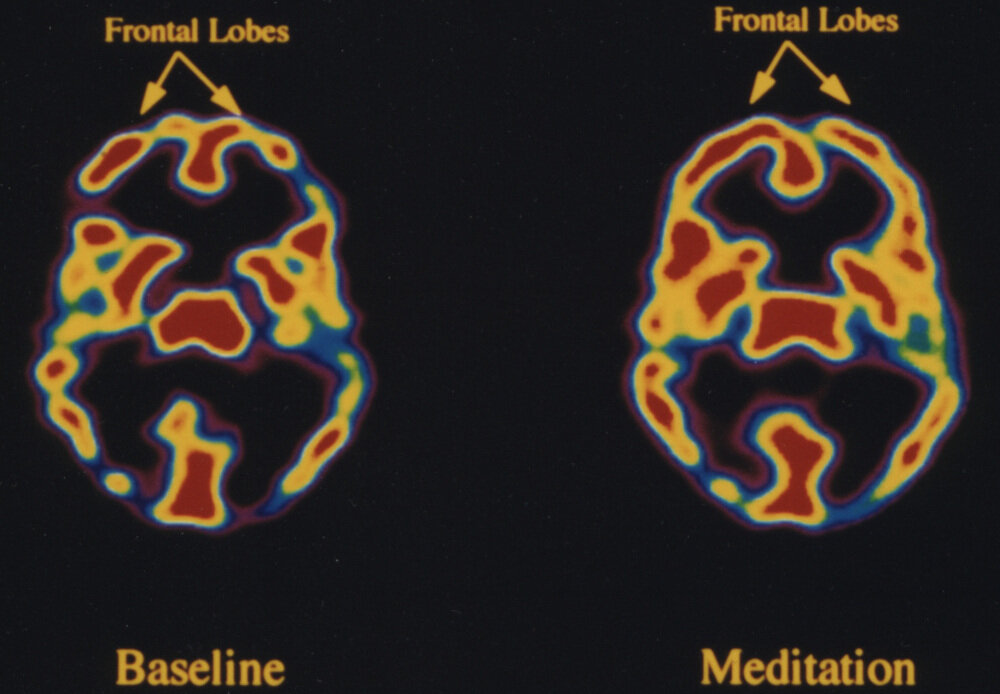 For thousands of years, religion has posed some unanswerable questions: Who are we?  What's the meaning of life? What does it mean to be religious.
In an effort to address those questions, Dr. Andrew Newberg has scanned the brains of praying nuns, chanting Sikhs and meditating Buddhists. He studies the relationship between the brain and religious experience, a field called neurotheology. And he's written a book, Principles of Neurotheology, that tries to lay the groundwork for a new kind of scientific and theological dialogue.
Newberg tells NPR's Neal Conan that neurotheology applies science and the scientific method to spirituality through brain imaging studies.
"[We] evaluate what's happening in people's brains when they are in a deep spiritual practice like meditation or prayer," Newberg says. He and his team then compare that with the same brains in a state of rest. "This has really given us a remarkable window into what it means for people to be religious or spiritual or to do these kinds of practices."
Newberg's scans have also shown the ways in which religious practices, like meditation, can help shape a brain. Newberg describes one study in which he worked with older individuals who were experiencing memory problems. Newberg took scans of their brains, then taught them a mantra-based type of meditation and asked them to practice that meditation 12 minutes a day for eight weeks. At the end of the eight weeks, they came back for another scan, and Newberg found some dramatic differences.
"We found some very significant and profound changes in their brain just at rest, particularly in the areas of the brain that help us to focus our mind and to focus our attention," he says.
According to Newberg, many of the participants related that they were thinking more clearly and were better able to remember things after eight weeks of meditation. Remarkably, the new scans and memory tests confirmed their claims.
"They had improvements of about 10 or 15 percent," Newberg says. "This is only after eight weeks at 12 minutes a day, so you can imagine what happens in people who are deeply religious and spiritual and are doing these practices for hours a day for years and years."
Newberg emphasizes that while neurotheology won't provide definitive findings about things like the existence of a higher power, it will provide a deeper understanding of what it means for a person to be religious.
"For those individuals who want to go down the path of arguing that all of our religious and spiritual experiences are nothing more than biological phenomena, some of this data does support that kind of a conclusion," Newberg says. "But the data also does not specifically eliminate the notion that there is a religious or spiritual or divine presence in the world."
Because of that, Newberg says the success of neurotheology hinges on open-mindedness.
"One could try to conclude one way or the other that maybe it's the biology or maybe God's really in the room, but the scan itself doesn't really show that," Newberg says. "For neurotheology to really work as a field it needs to be very respectful and open to both perspectives."
Excerpt: 'Principles Of Neurotheology'
PRINCIPLES OF NEUROTHEOLOGY
BY ANDREW B. NEWBERG
PAPERBACK, 284 PAGES
ASHGATE
LIST PRICE: $29.95
"Neurotheology" is a unique field of scholarship and investigation that seeks to understand the relationship specifically between the brain and theology, and more broadly between the mind and religion. As a topic, neurotheology has garnered substantial attention in the academic and lay communities in recent years. Several books have been written addressing the relationship between the brain and religious experience and numerous scholarly articles have been published on the topic.  The scientific and religious communities have been very interested in obtaining more information regarding neurotheology, how to approach this topic, and whether science and religion can be integrated in some manner that preserves, and perhaps enhances, both.
If neurotheology is to be considered a viable field going forward, it requires a set of clear principles that can be generally agreed upon and supported by both the theological or religious perspective and the scientific one as well.  The overall purpose of this book is to set forth the necessary principles of neurotheology which can be used as a foundation for future neurotheological discourse and scholarship.
It is important to infuse throughout the principles of neurotheology the notion that neurotheology requires an openness to both the scientific as well as the spiritual perspectives.  It is also important to preserve the essential elements of both perspectives.  The scientific side must progress utilizing adequate definitions, measures, methodology and interpretations of data.  The religious side must maintain a subjective sense of spirituality, a phenomenological assessment of the sense of ultimate reality that may or may not include a Divine presence, a notion of the meaning and purpose in life, an adherence to various doctrinal processes, and a careful analysis of religion from the theological perspective.
In short, for neurotheology to be successful, science must be kept rigorous and religion must be kept religious.  This book will also have the purpose of facilitating a sharing of ideas and concepts across the boundary between science and religion. Such a dialogue can be considered a constructive approach that informs both perspectives by enriching the understanding of both science and religion.
It is at the neurotheological juncture that the science and religion interaction may be most valuable and help establish a more fundamental link between the spiritual and biological dimensions of the human being.  Therefore, neurotheology, which should provide an openness to a number of different perspectives, might also be viewed as a nexus in which those from the religious as well as scientific side can come together to explore deep issues about humanity in a constructive and complementary manner.  There, no doubt, will be differing view points that will be raised throughout this process, some of which may be more exclusive of one perspective or the other.  However, it should be stressed that for neurotheology to grow as a field, it is imperative that one remains open, at least somewhat, to all of the different perspectives including those that are religious or spiritual, cultural, or scientific.
In addition to the complex interrelationship between science and religion over the years, neurotheological research must draw upon the current state of modern scientific methods and existing theological debates. Science has advanced significantly in the past several decades with regard to the study of the human brain. Neurotheology should be prepared to take full advantage of the advances in fields of science such as functional brain imaging, cognitive neuroscience, psychology, and genetics.  On the other hand, neurotheological scholarship should also be prepared to engage the full range of theological issues. That theology continues to evolve and change from the more dogmatic perspectives of the past, through natural theology and systematic theology, neurotheology must acknowledge that there are many fascinating theological issues that face each religious tradition.
When considering the primary reasons for developing neurotheology as a field, we can consider four foundational goals for scholarship in this area. These are:
1.  To improve our understanding of the human mind and brain.
2.  To improve our understanding of religion and theology.
3.  To improve the human condition, particularly in the context of health and well being.
4.  To improve the human condition, particularly in the context of religion and spirituality.
These four goals are reciprocal in that they suggest that both religious and scientific pursuits might benefit from neurotheological research. The first two are meant to be both esoteric as well as pragmatic regarding scientific and theological disciplines. The second two goals refer to the importance of providing practical applications of neurotheological findings towards improving human life both individually and globally.
Given the enormity of these tasks to help understand ourselves, our relationship to God or the absolute, and the nature of reality itself, neurotheology appears poised to at least make a substantial attempt at addressing such issues. While other theological, philosophical, and scientific approaches have also tried to tackle these "big" questions, it would seem that neurotheology holds a unique perspective. It is one of the only disciplines that necessarily seeks to integrate science and theology, and if defined broadly, many other relevant fields. And this is perhaps the greatest gift of neurotheology, the ability to foster a rich multidisciplinary dialogue in which we help others get it right so that we can advance the human person and human thought as it relates to our mental, biological, and spiritual selves.
Excerpted from Principles of Neurotheology by Andrew B. Newberg. Copyright 2010 by Andrew B. Newberg. Excerpted by permission of Ashgate.
Please follow and like us: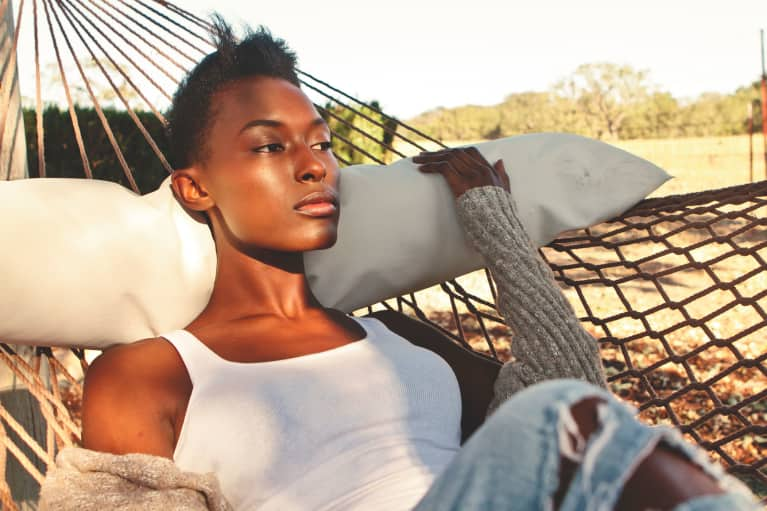 October 6, 2018 — 9:15 AM
Mindfulness can sometimes feel like a miracle cure, a panacea that can tackle both mental and physical ailments alike. A mindful outlook or practice can lower stress, ease negative emotions, lessen physical pain, and make sex more pleasurable. Indeed, the upsides to mindfulness seem endless.
Are there any downsides? That's debatable—but a new studysuggests there's at least one big mistake we fall prey to while trying to be mindful that can lead to some pretty negative outcomes.
The Italian study looked at different aspects of having a mindful personality—that is, a natural tendency toward being aware of their own emotions and thoughts—and how they correlate with incidents of depression and anxiety among participants. Participants answered questions about their symptoms of depression, anxiety, rumination, and worry, and they also filled out a questionnaire about their adherence to five different facets of mindfulness: observing, which relates to noticing what's going on around and within themselves; describing, which is how apt the participants are at labeling their experiences; acting with awareness rather than being on autopilot; non-reacting, which means allowing one's emotions and ideas to come and go without reacting to them; and non-judging, or viewing one's thoughts and feelings without judging them.
It's this last trait that seemed to be posing a problem for mindfulness seekers. The findings showed participants who admitted to having strong judgments about their thoughts and feelings were more prone to depression and anxiety.
It's easy to understand how one can slip from the positive outcomes of mindfulness—understanding and accepting oneself—and accidentally fall into the trap of self-judgment. But taking notice of one's flaws, emotions, or upsetting feelings isn't the same as judging them. When we attach a harsh judgment to an already difficult thought or feeling, we're just adding salt to an already painful wound.
"When individuals criticize themselves and their feelings, thoughts, and emotions, they experience higher levels of suffering," the paper notes. "Such self-criticism, far from being helpful in getting rid of negative moods and beliefs, exacerbates the very same negative thoughts and emotions that they are experiencing."
In other words, as we progress in developing a mindful state of being and start being able to observe our inner workings, it's important we're not responding by judging what we're now able to see about ourselves. Practicing forgiveness is part and parcel of practicing mindfulness.
In the midst of a self-judgment storm, stop and ask yourself, "Would I talk this way to a good friend?" And if you're feeling stuck in a critical spiral, try the metta, a loving kindness meditation. Taking just a few minutes to wish ourselves to be safe, healthy, and free from suffering can help shift our state from one of judgment to one of self-love. 
Please follow and like us:
How Meditation Benefits CEOs
How Meditation Benefits CEOs
DECEMBER 14, 2015
Mindfulness is quickly following yoga in becoming a billion-dollar industry. It's no surprise, then, that the popularity of meditation – one way to practice mindfulness – is also growing among CEOs and senior executives. Why are business leaders embracing meditation rather than, say, massage or ping-pong? Because there's something to meditation that appears to benefit CEOs more than recreation or relaxation do alone.
As CEO of the TLEX Institute, Johann Berlin specializes in bringing mindfulness training to CEOs and corporate teams. He says he's seeing a growing interest among leaders in meditation as a way to build leadership skills – and achieve business goals. "Most of our new clients … are not sold by mindfulness as a novelty. They want to see how these approaches … are truly beneficial to existing priorities like retention, talent advancement, innovation." For example, one of Berlin's clients, a Fortune 25 company, has integrated mindfulness techniques into its high potentials program with the goal of creating agile and flexible mindsets as a foundation for leadership.
The research on mindfulness suggests that meditation sharpens skills like attention, memory, and emotional intelligence. I spoke with a number of executives about their experiences with meditation, and saw again and again how their observations about meditation in the workplace connected back to the findings of academic research.
Meditation builds resilience. Multiple research studies have shown that meditation has the potential to decrease anxiety, thereby potentially boosting resilience and performance under stress. That's certainly been true for Alak Vasa, founder of Elements Truffles, who started meditating as a trader at Goldman Sachs and ITG. She claims meditation helped her keep fear and panic at bay, even under duress. "There was this one instance where the market tanked and there was panic on the desk. The trading desk was an organized riot. Thanks to my meditation practice, I was able to keep my composure and propose solutions to reduce the impact of the market crash."
YOU AND YOUR TEAM
How to bring calm and focus to your work routine.
Jonathan Tang, founder and CEO of VASTRM fashion, first introduced meditation to his staff after 9/11. "In the aftermath of 9/11, the employees at my company were noticeably shaky and distracted.  I decided to bring in a meditation facilitator to offer people the ability to sit silent for 20 minutes.  The room filled up quickly as people really needed an outlet for peace.   When the session was over, people who had never meditated before were filled with a sense of calm.  It helped them be more present at work and even carried forth to being more present with their families at home."
Meditation boosts emotional intelligence. Brain-imaging research suggests that meditation can help strengthen your ability to regulate your emotions.
Archana Patchirajan, successful serial entrepreneur and CEO and Founder of Sattva, shared that in her early years as a leader, she wanted things to happen in her way and on her timeline. "I didn't tend to understand what my team was going through. I would just get angry if they did not perform according to my expectations. " Given research that shows anger's impact on cardiovascular health, it is critical that leaders be able to manage their anger, and put themselves in others' shoes. "Thanks to meditation I have developed patience." Archana says. "I have a better relationship with my team. Best of all, I maintain my peace of mind."
Dr. James Doty, a neurosurgeon at Stanford University's School of Medicine, also values meditation for its ability to cultivate emotional intelligence. A colleague had developed a cutting-edge medical device, but the company he had started to develop and sell the device was on the rocks. Doty, an early investor, became the CEO. At a meeting with vital – but disgruntled – stakeholders, he faced an angry, unreasonable investor. He credits his mindfulness practice with helping him respond with empathy: "I paused and slowly took a few breaths… This led me to actually listen and understand not only his situation, but what he wanted and expected. By not responding in an emotional manner, it resulted in his not only becoming supportive but also becoming an ally in making the company a success. The company ultimately went public at a valuation of $1.3B. "
Meditation enhances creativity. Research on creativity suggests that we come up with our greatest insights and biggest breakthroughs when we are in a more meditative and relaxed state of mind. That is when we have "eureka" moments. This is likely because meditation encourages divergent thinking (i.e. coming up with the greatest number of possible solutions to a problem), a key component of creativity.
Charly Kleissner credits meditation with helping him come up with new ideas and ventures that would otherwise not have occurred to him. "I co-founded the 100% IMPACT Network because of my meditation practice."
Meditation improves your relationships. While stress narrows your perspective and that of your team, and reduces empathy, negatively impacting performance, meditation can help boost your mood and increase your sense of connection to others, even make you a kinder and more compassionate person.
Chirag Patel, CEO of Amneal Pharmaceuticals and Ernst & Young 2011 Entrepreneur of the Year, credits meditation with helping him feel more connected to his clients. "In a business you start connecting to your customer as your family rather than merely a business transaction." The same goes for his relationships with his colleagues and staff.
Meditation helps you focus. Research has shown that our minds have a tendency to wander about 50% of the time. Add in work interruptions, text messages, IMs, phone calls, and emails, and it's no surprise that employees have a hard time staying focused. But studies show that meditation training can help curb our tendency for distraction, strengthening our ability to stay focused and even boosting memory.
Peter Cooper, founder of Cooper Investors, attributes his ability to invest wisely to his meditation practice. "Being an investor requires the distillation of large volumes of information into a few relevant insights. Meditation has helped me discard interesting but unnecessary information and focus on the few things that make a difference to long run investment performance."
***
Importantly, meditation is not just "one more thing to do." If you're thinking that you have enough on your plate and don't need yet another thing, consider this advice that Arianna Huffington shared with me. "Although I've known its benefits since my teens, finding time for meditation was always a challenge because I was under the impression that I had to 'do' meditation. And I didn't have time for another burdensome thing to 'do.' Fortunately, a friend pointed out one day that we don't 'do' meditation; meditation 'does' us. That opened the door for me. The only thing to 'do' in meditation is nothing."
But as both research and experience show, doing nothing can have real results.
DECEMBER 14, 2015
Please follow and like us: