Health
In our pursuit of health (the state of being free from illness or injury) we discovered the magic of meditation, the wonderful benefits of prayer, and the infusion of mind, body, and spirit through the consumption of tea.  In this pursuit, we have come across various writings, videos, and artistic presentations which can further these efforts.  To be of additional service to you, we have compiled an assortment of these works which you may find helpful.   Please enjoy as we have.
Please follow and like us:
Why Fast?
Fasting accomplishes several things.  The first? It is the best—the very best—way to control glucose and insulin.  If you want to live longer than anyone healthy, control your glucose.  Without the constant spikes in glucose and insulin, your body is at leave to burn its own fuel, to run on its own juice.  In turn, testosterone levels remain sound.  Each time we eat, testosterone levels plummet, which spike glucose and insulin, all of which power inflammation and aging.  Yet, it's ill-advised to push calories away. With fasts, eating habits change because your body no longer needs it.  Bodies learn to feed from themselves, and maintain optimal glucose levels.  The second accomplishment: autophagy. Autophagy (or "self-eating") is the process by which the body naturally removes cellular debris.  Bad cells (which are not able to adapt to using fat for energy) die off because the body "eats" the bad cells and proteins first.  Autophagy has been the shock of shrinking tumors, of magically erased skin tags, dying viruses, and more. All these massive benefits can occur when autophagy kicks into high gear.  Researcher Dr. Valter Longo noted in a study1 that a water fast of 4 or more days can trigger a reset of the immune system. You see as we get older, our blood contains too many memory T-cells, each programmed to combat a particular microbe, and not enough naive T-cells, which respond to new challenges. Fasting purges and rebuilds the immune cell population with naive T-cells.
A third reckoning: epigenetics —turning the bad genes to good, powering on the good ones, and shutting off the bad ones. Whether by the force of one-day fasts or elongated fasts, genetics start to maneuver into their natural state, altered healthily and hugely affected by our dietary choices.  And, fourth: hormone sensitivity.  Like before, gear up your body to listen to those hormones by putting it through a fast, cleansing it, and making room for that physical change.
Even during a short fast there's a rapid increase in growth hormone, one reason behind my weekly fasts (at least once a week, for a full 24 hours), which we'll explore later. A weekly mini-fast revolves around a simple idea: optimizing hormones is not about gaining more hormones, but about becoming more hormone-sensitive. Hormones like testosterone, or any that affect healing, are dramatically amped during a fast.
CHTV episode 108 shares the experience of Dr. Derrick Dempsey, whose 22-day water fast was the root solution for personal health issues. For Dr. Dempsey, growing up with a pastor father, the ideology behind fasting was when you fast, not if you fast. The biblical ties are a huge gauge for many of us, including myself.  The second "why" for fasting stems from his responsibility to family—he's no stranger to the truth that spousal support and family leading requires good health.
Dr. Dempsey takes us through his fast, a project which started out as a 5-day fast, and evolved into 22 days of only consuming water.  Having experienced fasting with whey water and broth previously, he was prepared for the task, which brings us to the first concept in coaching—mental preparation.  By days two and three, despite the longing for meals, Dr. Dempsey powered through.  Then the switch, a sort of mindset altering, occurred between days 4 and 6, where he developed a slight aversion to food and his mental clarity was re-charged.  "You're fine with water," he told himself.  "Just keep going." 
As the fasting progressed, Dr. Dempsey noticed some erratic changes in his mental capacity.  As a youth, bludgeoned down by four head traumas and never feeling fully recovered, he initially notes that his mental clarity skyrocketed.  Like many of us, he would have to read and reread things several times over to get the gist. With fasting, however, he found that wasn't the case—his acuity soared. Such is the case with brain fog. Time and time again, a water fast has proven to scrape away symptoms of the "brain fog."  It reactivates the brain and hones focus.
Another consideration is rapid weight loss.  When carefully executed, the fast can reduce large portions of weight, uprooting deep toxins stored in the tissue.  However, weight loss isn't the primary goal for everyone—and for that, there's good news! The innate intelligence knows and seeks balance: something we call homeostasis.  The body knows how to eat damaged tissue and bad DNA while routinely avoiding muscle.  This situation is marvelous for tumors—the body will eat those.  Endometriosis, a condition which is alive with scar tissue, is swallowed up in the innate feeding process of bad cells. In Dr. Dempsey's case, chronic snoring and congestion ceased during the fast. 
Alongside that weight loss, however, is the audible weight gain.  With the rapid healing of the gut, the fast can be a strategic tool for gaining muscle.  With growth hormone and testosterone increasing, and the gut healing, the body can assimilate food better.  We note YouTube sensations the Hodge twins, whose 19-hour fast, powered by a 5-hour feeding period, is credited as the process for bodybuilding.   
Please follow and like us:
Cayenne Pepper Benefits Your Gut, Heart & Beyond
May 27, 2018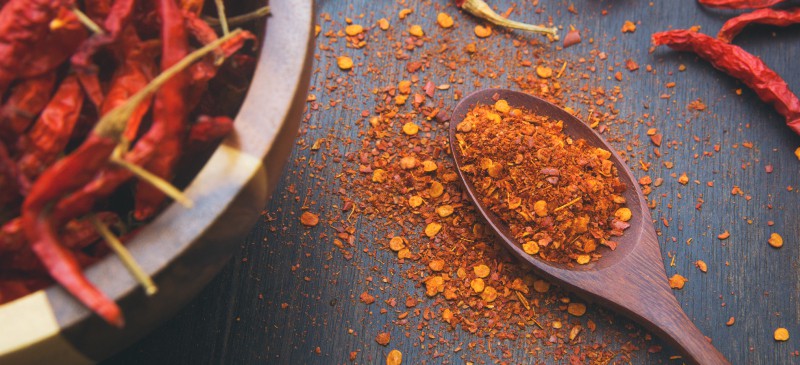 Many of us have used cayenne pepper to add a little spice to our meals, but did you know that it has the power to change your health? It has been used for both food and medicine for the last 9,000 years! Cayenne pepper can stimulate your body's circulation and reduce acidity; it's a powerful, spicy little pepper that offers many health benefits.
Cayenne pepper is typically added to food in either its natural or powdered form, and some people use it as a cream or capsule in order to take advantage of its detoxifying properties.
Cayenne pepper benefits are numerous and effective; it's used to help digestion, including heal upset stomach, slow intestinal gas, stop stomach pain, stop diarrhea and as a natural remedy for cramps. It's also used for conditions of the heart and blood vessels — including to improve poor circulation, reverse excessive blood clotting, lower high cholesterol and prevent heart disease.
When consumed, cayenne pepper has the power to relieve a toothache, seasickness, alcoholism, malaria and fever; it's also used to help people who have difficulty swallowing. When applied topically, cayenne pepper benefits the skin, too.
The fruit of the capsicum plant contains a chemical called capsaicin. Using capsaicin for different health ailments is more common than ever. Currently, it's being studied to test its ability to reduce pain sensations when applied to the skin, and research indicates that it would be effective as a remedy for headaches (including migraines), potential solution for osteoarthritis and other painful conditions.
---
Cayenne Pepper Nutrition Facts
Cayenne is a shrub that originated in Central and South America and now grows in subtropical and tropical climates. Its hollow fruit grows into long pods that turn red, orange or yellow when they ripen. Cayenne chili peppers (or Capsicum frutescens) belong to the genus Capsicum and come from a similar cultivar of Capsicum annuum. Capsicum is an herb, and the fruit of the capsicum plant is used to make medicine.
The pepper also contains vitamin C, vitamin B6, vitamin E, potassium, manganese and flavonoids – which provides its powerful antioxidantproperties. On the Scoville Rating Scale, cayenne pepper is rated typically anywhere from 30,000 to 190,000 Scoville Heat Units (SHU). (Pure capsaicin has the highest SHU rating.)
Here are the cayenne pepper nutrition facts, listed in recommended daily values; 1 teaspoon of cayenne pepper contains:
17 calories
1 gram of fat
2 milligrams sodium
3 grams carbohydrate
1 gram dietary fiber
1 gram sugar
1 gram protein
44 percent vitamin A
8 percent vitamin E
7 percent vitamin C
6 percent vitamin B6
5 percent vitamin K
5 percent manganese
3 percent potassium
No cholesterol
---
15 Cayenne Pepper Benefits
1. Helps Digestion 
One of the major cayenne pepper benefits is the positive effect it has on the digestive system. Cayenne pepper helps produce saliva, which is important for excellent digestion as well as preventing bad breath. Consuming cayenne pepper stimulates our salivary glands, which is needed to begin the digestive process. (1)
Cayenne pepper also stimulates the flow of enzyme production, which is essential for our digestive system to work properly. It also stimulates gastric juices that aid the body's ability to metabolize food and toxins. (2)
2. Relieves Migraine Pain 
Researchers suggest that cayenne pepper, due to its spice, is able to stimulate a pain response in a different part of the body. Once this happens, the brain puts its attention on that new site and will no longer concentrate on the pain in the head, which causes the migraine headache.
After this initial pain reaction from the cayenne pepper, the nerve fibers have a depleted substance P, or pain chemical, and the sensation of pain is lessened. You are basically tricking your body to "feel pain" somewhere else, so that the head is no longer the main focus for pain chemicals. (3, 4)
3. Prevents Blood Clots
Blood clots are blockages in your arteries and blood vessels that limit blood flow through your circulatory system. Cayenne encourages fibrinolytic activity and helps prevent blood clots. This is also the reason why cayenne pepper is effective in preventing heart attacks. The capsaicin in cayenne pepper helps to clear away artery-narrowing lipid deposits, and dilates arteries and blood vessels to clear away clots. (5, 6)
4. Provides Detox Support 
Cayenne pepper benefits include its ability to stimulate circulation and eliminate acidity. Cayenne pepper restores the circulatory system by opening the capillaries and regulating blood sugar; it also helps the digestive system that moves bacteria and toxins out of the body. Cayenne pepper also increases body temperature and boosts your metabolism. (7, 8)
5. Relieves Joint and Nerve Pain 
Cayenne power has very powerful pain-relieving properties when applied to the skin. It reduces the amount of substance P, a chemical that carries pain messages to the brain. When there is less substance P, the pain messages no longer reach the brain and you feel relief.
Studies have found that cayenne pepper relieves pain after surgery, such as a mastectomy or an amputation. It also alleviates pain from nerve damage in the feet or legs from diabetes, lower back injuries, neuropathy, osteoarthritis and rheumatoid arthritis, as well as fibromyalgia symptoms like joint or muscle pain. (9)
6. Supports Weight Loss 
Studies have found that consuming cayenne pepper for breakfast creates less appetite, so people eat less calories during the day. It also burns excess fat because it's a metabolic booster. As one of the key anti-inflammatory foods, cayenne pepper benefits also include weight loss. Cayenne pepper has the power to soothe inflammation and bloating that comes from allergies, food sensitivities and infections. (2, 8)
7. Works as Anti-Irritant 
Cayenne pepper benefits include its anti-irritant properties, making it effective in easing ulcers, upset stomachs, cough and even potentially stop diarrhea. The common belief is that cayenne pepper, when consumed in excessive amounts, leads to gastric ulcers because of its irritant and acid-secreting nature. People with ulcers are actually advised to limit or avoid using cayenne pepper; however, investigations carried out in recent years have revealed that chili, or its active principle "capsaicin," is not the cause for the formation of ulcer symptoms but a benefactor.
Studies have found that cayenne pepper does not stimulate, but inhibits acid secretion, stimulates alkali and mucus secretions and particularly gastric mucosal blood flow, which helps in the prevention and healing of ulcers. (9)
8. Treats Psoriasis
Psoriasis occurs when skin cells replicate too quickly, and it results in swollen patches under the skin covered with whitish scales on top. The scaly patches are areas of inflammation and excessive skin production.
Two trials showed that 0.025 percent capsaicin (cayenne pepper) cream used topically is effective in treating psoriasis. The first study showed a significant decrease in scaling and redness during a six-week period in 44 patients with moderate and severe psoriasis. The second was a double-blind study of 197 patients; psoriasis was treated with the capsaicin cream four times daily for six weeks, with a significant decrease in scaling, thickness, redness and itching. (10)
9. Boosts Metabolism 
Cayenne pepper benefits also include its ability to regulate your metabolism. Cayenne pepper has been found to effectively suppress hunger and normalize glucose levels. It keeps blood pressure levels normalized, and helps the body lower LDL cholesterol and triglycerides. (11, 12)
10. Fights Cold and Flu 
Cayenne pepper benefits include being full of beta carotene and antioxidants that support your immune system. It aids in breaking up and moving congested mucus, and once this nasty mucus leaves the body, the symptoms of the flu or cold will diminish. Besides helping as a natural remedy for the flu, cayenne pepper also raises your body temperature, which makes you sweat and increases the activity of your immune system. As a vitamin C food, cayenne pepper may also help you to kick that nasty cold.
11. Source of Vitamin A
Vitamin A plays a critical role in maintaining healthy vision, neurological function and healthy skin; it is an antioxidant that reduces inflammation by fighting free radicals. Studies have repeatedly shown that antioxidants like vitamin A are vital to good health and longevity; they benefit eye health, boost immunity and foster cell growth. (13)
Lucky for us, cayenne pepper is a great source of vitamin A; in fact, with just two teaspoons of cayenne pepper, you are getting your fill of vitamin A for the day!
12. Contains Vitamin E
Vitamin E benefits include helping many organs in the body function properly and is extremely useful in naturally slowing the aging process. This important and beneficial vitamin has the power to balance cholesterol, fight free radicals, repair damaged skin, balance hormones, repair damaged skin and hair, improve vision and increase energy levels … and cayenne pepper is an important provider of vitamin E.
13. Prevents Allergies  
Because cayenne is an anti-inflammatory agent, it has the power to prevent allergies and the symptoms related to allergies. A food allergy, for example, is a measurable response to consuming a specific food. Food allergies, or intolerances, can be caused by a condition known as leaky gut (intestinal permeability), when proteins and food particles pass through the gut and cause systemic body inflammation.
Leaky gut is like having the gates broken from your intestines to your bloodstream so that toxins, microbes and undigested food particles can now get through. (Take my leaky gut test if you want to know if you have it.) When this happens, it causes inflammation throughout your body, leading to a variety of diseases.
14. Possible Anti-Cancer Agent 
Studies suggest that capsaicin may have a role as a natural remedy for cancer, including in the management of prostate cancer. One study conducted at University of California at Los Angeles School of Medicine found that this important ingredient in cayenne pepper is able to inhibit the growth of cancer cells and prevent the activation of new dangerous formations. (14)
There is also data from California's Loma Linda University that suggests that cayenne pepper benefits include being effective in helping prevent lung cancer in smokers. Cayenne pepper's high amounts of capsaicin serves as a substance that can stop the formation of tobacco induced tumors in the lung. Similar effects have also been found in liver tumors when they were exposed to cayenne pepper.
15. Anti-Fungal Properties
The final cayenne pepper benefit is its ability to kill fungus and prevent the formation of fungal pathogens. Cayenne pepper was investigated to determine its in vitro antifungal activity, and the results found that it was active against 16 different fungal strains, including Candida.
Candida is a fungus that aids with nutrient absorption and digestion, when in proper levels in the body. When it overproduces, however, the typical candida symptoms may appear; this includes hormone imbalance, joint pain, digestive problems and a weak immune system. (12)
Please follow and like us: